Since last week, if you walk by any of our branches you will see a Price List in each of the windows. You will also find this in a larger poster format inside our reception areas along with another poster containing other information about current crematorium prices, ownership disclosure and terms of business. All of this is available to download from our website, via email request and in paper format from our branches/post.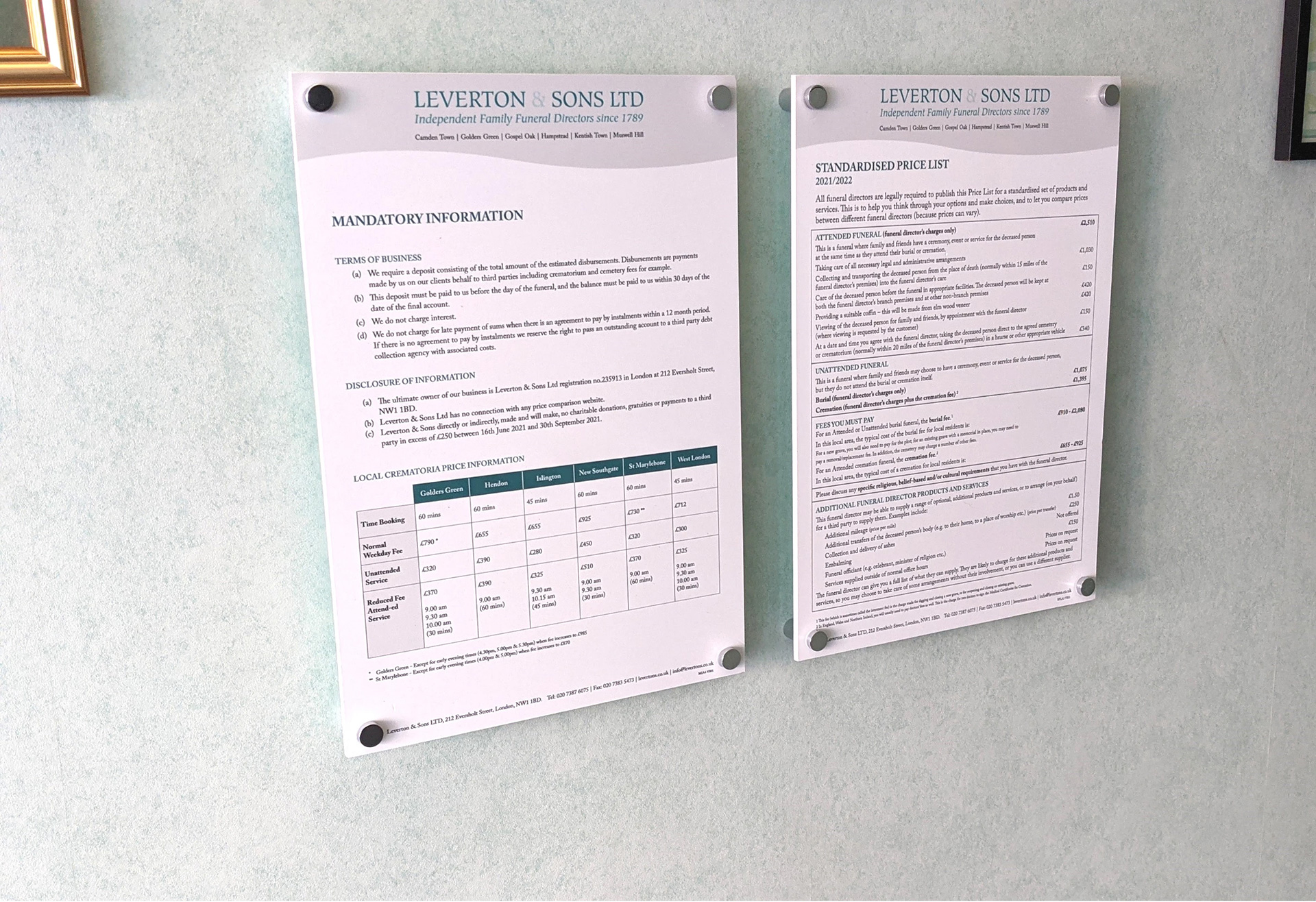 It may look a bit 'up front' and perhaps jarring to have prices brought to clients' attention so quickly before we are able to have a conversation. However, it is now mandatory to display our information in this way as new regulation has come into effect across the profession introduced by the Competition and Markets Authority (CMA).
This is a move by the CMA to make pricing and ownership more transparent and accessible to clients and we think this can only be a good thing. Good and reputable funeral directors are already doing this. As a company we have always provided online and printed price lists in easily accessible formats and have in fact been recognised for the level of transparency and clarity in which we present our information. As early adopters of a company website within the profession we have always listed our prices along with our services and are committed to presenting them clearly.
You will still be able to find our full – what we call 'Comprehensive' price list which has all of the services and fees itemised. However, what you will see on our window and reception posters are our prices presented in a Standardised format as required by the regulation. The purpose of this is to enable clients to compare Funeral Directors prices by displaying simple funeral service options in the same way throughout the profession.
We still feel, as with all of our services, that it's important that we are able to explain and take you through the options that are right for you. Listing items is helpful but every funeral is different and listening to the bereaved and tailoring what each family needs, enables us to show you what is applicable and suitable. It can often be a lot of information to process at a very difficult time and the new formats still require explanation and conversation. This is central to our role and where our relationship based on trust begins.
We are still proudly independently owned, and managed, by our family – as we have been since 1789 and are happy to confirm this in our Mandatory Information posters.
Please do and come in or phone to chat to us if you would like to know more about us or our pricing and the services that we provide. As always without obligation or any pressure.