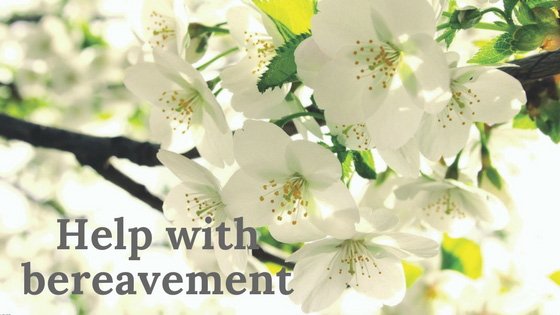 We can provide contact details of a number of organisations who can help with bereavement. The Samaritans are available 24 hours a day but the hours in which you can contact specialist bereavement helplines do vary. Try the phone numbers below or look on their websites.
You may benefit from more long-term support, in which case, talk to your GP about bereavement counselling or contact the organisations listed below.
There are experienced professional people who understand and who want to help you. Just take your time and you will find the support that is right for you. Should you want to have support through bereavement counselling it can of great benefit.
The overall philosophy of bereavement counselling from those practitioners we have met, is to provide a therapy of conversation to those that find bereavement difficult to cope with and the subsequent pain caused as a symptom.
Counselling is often sought between six and fifteen months after a funeral when the grief can become intense but you can seek support whenever you wish. It may be that you may experience an initial period of normality and that grief intensifies later causing bewilderment and anxiety. It's at this time, when the usual support of family and friends, are not so readily available that counselling can be of particular help.
If you click on the name of the organisations below, all link to their individual websites for more information.
We also can provide you with a bookmark which has all of these details on it for you to keep:
24 hour helplines
The Samaritans | 116 123
For a full list of organisations who can help with bereavement:
Barnet Bereavement Service | 020 8441 3572
Free bereavement counselling for adults.
Camden, City, Islington and Westminster Bereavement Service | 020 7284 0090
Free bereavement counselling help for any adult either living within or registered with a GP, in Camden, Islington and the City of Westminster, or who live, work or are registered with a GP, within the City of London.
Child Death Helpline | 0800 282 986
A helpline for anyone affected by the death of a child of any age, from pre-birth to adult, under any circumstances, however recently or long ago.
Child Bereavement | 0800 028 8840
Supports families and educate professionals both when a baby or child of any age dies or is dying, or when a child is facing bereavement.
Compassionate Friends | 0845 123 2304
An organisation of bereaved families offering support to others after the death of a child or children. The helpline is always answered by a bereaved parent who is there to listen.
Cruse Bereavement Care | 0844 477 9400
Promotes the well-being of bereaved people and enables anyone bereaved by death to understand their grief and cope with their loss.
The Miscarriage Association | 01924 200 799
Offers support and information to anyone affected by the loss of a baby in pregnancy.
Stillbirth and Neonatal Death Charity (SANDS) | 020 7436 5881
Supports anyone affected by the death of a baby during pregnancy or after birth.
Survivors of Bereavement by Suicide | 0300 111 5065
Supporting people over 18 who have been bereaved by suicide
Support After Murder & Manslaughter | 0845 872 3440
All SAMM's volunteers have themselves been bereaved as a result of homicide.
The Way Foundation |
Supports young widowed men and women as they adjust to life after the death of their partner – whether that was a month, a year, or ten years ago.
Way Up |
An active web-based self-help group aimed at providing mutual support to widows and widowers, primarily in their 50s and 60s.
Winston's Wish | 08452 03 04 05
Offers advice on how to help children and young people to re-adjust to life after the death of a parent or sibling.
Young Minds - Parents' helpline | 0808 802 5544
Offers free confidential online and telephone support to any adult worried about the emotional problems, behaviour or mental health of a child or young person up to the age of 25.
The trust supports bereaved parents through their grief after the loss of a son or daughter of any age.